UL Lafayette Students & Faculty-- Be a Shark!
Thu, 10/28/2021 - 11:33am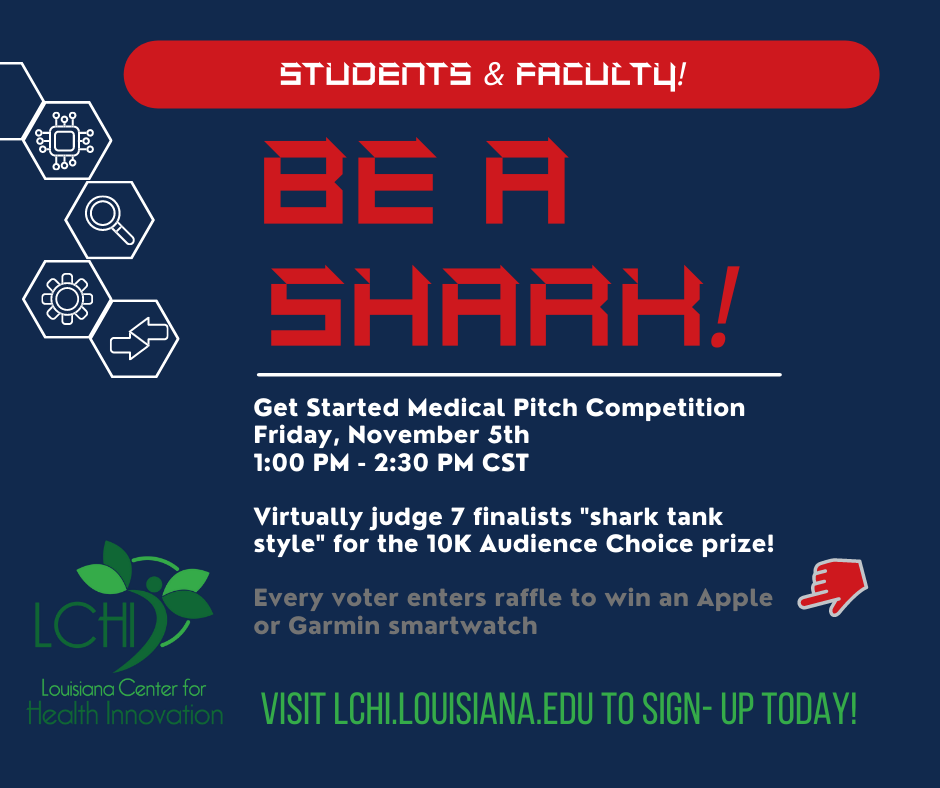 We invite you to join us for an interactive forum & pitch competition that will bring together some of the best and brightest minds from around the country. This shark tank-style event, the 4th annual Get Started Medical pitch will feature the country's hottest business ideas in the medical industry, and you can be a part of the excitement!
Watch as 7 companies pitch their healthcare innovations and compete for up to $40,000 in cash prizes.
------------------------------------------------------------------------------
Schedule Overview
1:00 PM - 2:30 PM CST
Get Started Medical powered by Cox Business
2:30 PM - 3:30 PM CST
State of Venture Capital in Louisiana with Mark Graffagnini, Partner with Callais Capital Management
------------------------------------------------------------------------------
Our Moderator
Monte Danos, Field Marketing Director, Cox Business Southeast Region
2021 Judges Panel
Mike Dozier, Chief Information Officer, Ochsner Lafayette General
Charles Edwards, CEO/ Advance Telehealth Consulting Solutions L.L.C. and One Telemed, LLC
Bruce D. Greenstein, LHC Group EVP, Chief Strategy & Innovation Officer
Trivia Frazier-Wiltz, PhD, MBA, Obatala Sciences Inc, President and CEO
Josh Sommer, Cox Communications, Vice President of New Growth
Meet Our Finalists
Crosscope (Mountain View, CA) is a medical artificial intelligence (AI) software company building flexible digital pathology workflows and AI-based clinical decision support tools for automating histopathology analysis for more accurate and efficient cancer diagnosis
General Genomics (Midland, TX) is a bioinformatics company harnessing the power of AI and machine learning (ML) to build a platform (Curo46) using algorithms on genetic markers, healthy history, and medical information to determine an individual's health risks, appropriate preventative measures, customized treatment programs and more.
Kinnos' (Brooklyn, NY) colorizing platform, Highlight®, colors bleach and bleach wipes a vivid blue to let us see our disinfection, instantly improving users' ability to correctly cover the entire surface being disinfected.
NEVAP (San Jose, CA) makes breathing tubes that remove pathogens during mechanical ventilation, reducing time on mechanical ventilation, the cost of treatment, and mortality in critically ill patients.
Prep Tech (Lafayette, LA) is a Louisiana-based medical device company with two product lines — ULTRAPREP streamlines/reduces OR time and ISOCUBE protects healthcare professionals and hospital visitors from COVID contamination.
Protean BioDiagnostics (Orlando, FL) is an innovative precision medicine diagnostic company with a focus on accelerating access to precision cancer treatments through its Oncology MAPS™ system.
SafeBVM (Chesterfield, MO) minimizes unsafe manual ventilation with resuscitation bags and its subsequent complications with near-ventilator precision, making emergency ventilation patient-centric.
------------------------------------------------------------------------------
Thank you to our partners for making the 4th annual Get Started Medical Pitch Competition possible!
Partners: Cox Business, Ochsner Lafayette General, and Opportunity Machine
Healthcare Partners: Louisiana Center for Health Innovation, The Advocate, Homebank, Blue Cross Blue Shield of Louisiana, Cox Media, VieMed, and CGI
Supporting Partners: LHC Group, University of Louisiana at Lafayette, Tides Medical, Louisiana Economic Development (LED), Innovation Ochsner, Acadian Companies, and Lafayette Economic Development Authority (LEDA)

To Be a Virtual Shark Judge - Sign up here - https://live.remo.co/e/get-started-medical-pitch-compet/register?mc_cid=e518f7c8a2&mc_eid=3770ff7429